2015 Volunteer Awards – Nominations Sought
The Barry County United Way's Volunteer Awards recognize, honor and celebrate residents within Barry County who have given so generously of their time and talent for the benefit of the community. Any organization that utilizes volunteers in Barry County is eligible to submit nominations. This includes nonprofit agencies, service clubs and organizations, churches, and even businesses that are involved in employee volunteering. This year's theme was "And the Award goes to…" which celebrates the great accomplishments that volunteers are doing right here in our community.
Winners were announced at an evening reception held April 16, 2015 at the Walldorff  Ballroom in Hastings. Volunteers were recognized in the following  categories" Volunteer of the Year, Youth Volunteer of the Year, Outstanding Mentor Award, Continuing Service Award, Corporate Service Award, Community Health Award, and Group Volunteer Award.
National Volunteer Week, April 12-18, 2015, is about inspiring, recognizing and encouraging people to seek out imaginative ways to engage in their communities. It's about demonstrating to the nation that by working together, we have the fortitude to meet our challenges and accomplish our goals.  National Volunteer Week is about taking action and encouraging individuals and their respective communities to be at the center of social change – discovering and actively demonstrating their collective power to make a difference.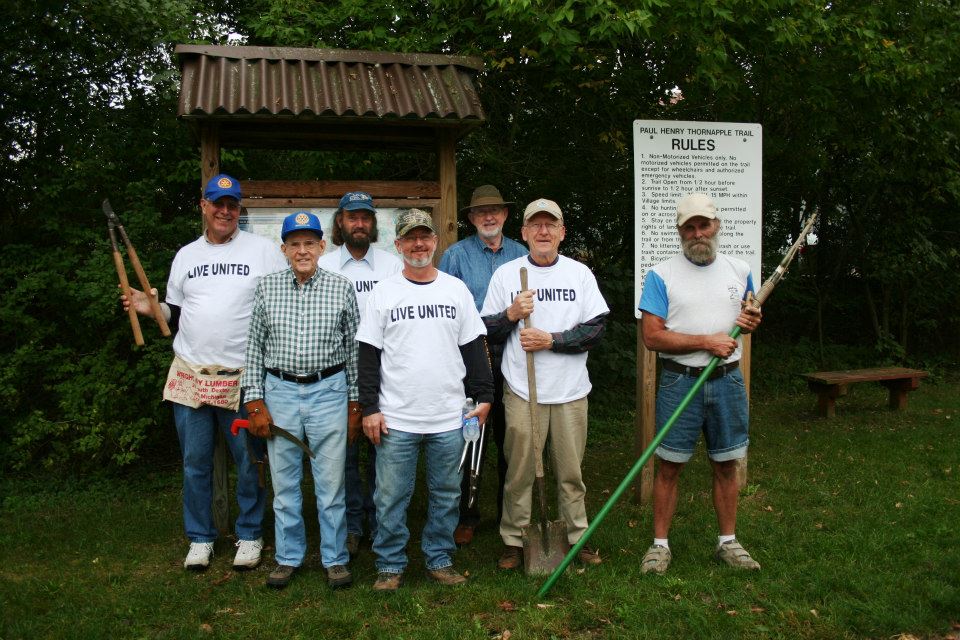 The Volunteer of the Year award honors an individual who has demonstrated a lifelong commitment to community involvement and volunteer service. Last year's Volunteer of the Year award went to Courtney Ziny for her ongoing work with the Volunteer Income Tax Assistance program. She assists in the tax preparation, educated residents about the Earned income Tax Credit and talks to them about financial stability. This year alone, she and her sister have worked with over 150 Barry County residents. She is truly creating positive change right here in our community.
The Volunteer Center realizes the impact that youth have on our community and the Youth Volunteer of the Year award recognizes a youth, or group of youth, under 18 years old who are taking action to make our community a better place. Last year's Youth Volunteer of the Year is Melia Timm who has chosen to give her time to helping Historic Charlton Park run smoothly through her work with many different office tasks, events, and preservation efforts. Through her work, she is allowing the staff at Charlton Park to focus more on their own work as they know that Melia has things handled.
The Outstanding Mentor Award honors an individual who has made a significant impact in someone's life by being a mentor, giving of themselves personally month after month, year after year. The 2014 Mentor of the Year was Randall Bertrand who was recognized for his commitment to helping youth at the Hastings Skate Park. For the past 8 years he has connected with youth and helped talk them through real life issues like filling out a job application, getting a job, helping youth go back to school and just taken the time to sit down a listen to them. Johnson said, "Randall is a great asset to our community and I know that he will continue his amazing work for many more years to come."
In each organization there is typically one person who has been volunteering their time and energy year after year. The Continuing Service Award recognizes the long-term volunteer who has made an impact in an organization for at least five years. Last year the award went to Callie Courtright who is a part of the sisterly team which helps to provide free tax preparation through the Volunteer Income Tax Assistance program. Over the past 7 years, she has personally donated over 1,000 hours and assisted nearly 500 clients with their tax returns.
The Community Health Award is designed to honor those who volunteer to help make our community a healthier place for all.  The 2014 winner was Lorrie Blair who volunteers her time in so many different ways at Thornapple Manor. She is often seen helping with BINGO, taking residents to listen to music, making baby sweaters for the gift shop, planning fundraisers and so much more. Johnson said, "We cannot even begin to list all of the amazing things that Lorrie is doing at Thornapple Manor; we would get out of breath very fast!"
The Volunteer Center recognizes that groups are a powerful tool in volunteering and often go the extra mile for those in Barry County. A group can make a large impact when all working together toward a shared goal in their community. The group that was honored is a collaboration of individuals who have answered the call in assisting our residents when their day has turned bad. The Barry County Victim's Services Unit helps whenever highly traumatic incidents occur. They are there to comfort and support, provide a shoulder to cry on and someone to lean against. They were honored for being the ones who are there when someone in our community needs a little extra support during a rough time.